CAKUT: Anomalies congénitales des reins et des voies urinaires
Coordinateurs : Bénédicte Buffin-Meyer, Stéphane Decramer, Jean-Sébastien Saulnier-Blache
Détection précoce des CAKUT sévères
La plupart des formes de CAKUT sont détectées in utero par échographie. Cependant, dans la plupart des cas, bien que la CAKUT soit détecté à un stade précoce, l'échographie ne permet pas de prédire de manière fiable la progression de la maladie. Or, des informations claires sur l'issue post-natale de la maladie permettraient d'améliorer considérablement la prise en charge des grossesses CAKUT. Nous avons développé l'analyse prénatale des peptidomes et des métabolomes des fluides corporels (urine fœtale et liquide amniotique) qui ont considérablement amélioré la prédiction de l'issue de la maladie comparativement aux seuls paramètres cliniques. Nous validons actuellement ces signatures peptidiques urinaires dans un essai européen multicentrique appelé ANTENATAL (Clinicaltrials.gov: NCT03116217).
Mieux comprendre la physiopathologie des CAKUT.
Les patients CAKUT présentent un large éventail d'atteintes rénales postnatales allant de sévères, avec décès in utero, à non-sévères avec une fonction rénale normale. Pour mieux appréhender les mécanismes moléculaires impliqués dans le CAKUT, nous avons utilisé la LC-MS/MS pour cartographier le protéome du liquide amniotique des fœtus humains témoins et CAKUT, et identifié 8 protéines indépendantes de l'âge gestationnel associées à la fois à la présence et à la sévérité du CAKUT. Parmi elles, p75NTR/NGFR est réduite en abondance avec la sévérité CAKUT, tandis que PLS3 (plastine-3) est augmentée. L'invalidation de p75NTR chez le poisson zèbre altère la néphrogenèse, alors que les souris knock-out Pls3 altère l'intégrité des glomérules et des podocytes. Ces deux protéines, pourraient contribuer au développement des CAKUT et à ses conséquences sur la fonction rénale postnatale.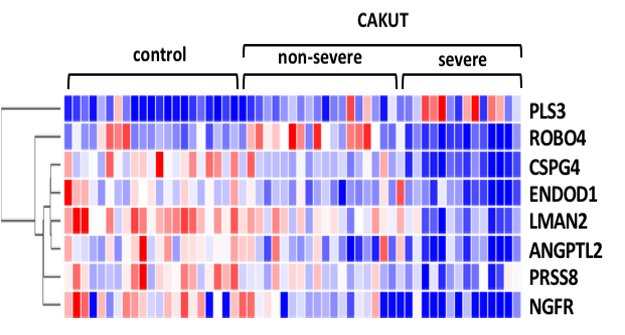 Les anomalies du facteur nucléaire hépatocytaire 1beta (HNF-1ß) sont les mutations les plus fréquemment trouvées comme étant associées au CAKUT. Cependant, les corrélations génotype-phénotype des variantes du gène HNF-1ß n'ont pas été démontrées de manière convaincante et, par conséquent, la connaissance des variantes sous-jacentes du gène HNF-1ß n'aide pas clairement à la pris-en-charge clinique. Nous poursuivons l'étude de cette corrélation par une enquête à grande échelle dans le cadre d'ERKnet (www.erknet.org) sur les personnes présentant des variantes du gène HNF-1ß et la progression de la maladie rénale.
EndoTreat: research project conducted in partnership with the Toulouse University Hospital (E. Chantalat), INSERM-I2MC (F. Lenfant) and the start-up company Urosphère. Creating endometriosis organoids from patients' lesions to test drug candidates. This is the challenge of the EndoTreat project led by a team from Toulouse.
read more


Inserm/UPS UMR 1297 - I2MC Institut des Maladies Métaboliques et Cardiovasculaires
1 avenue Jean Poulhès - BP 84225 - 31432 Toulouse Cedex 4
Tél. : 05 61 32 56 00
Horaires
Du lundi au vendredi
8h30 - 12h30 / 13h45 -16h45