Françoise LENFANT / CORALIE FONTAINE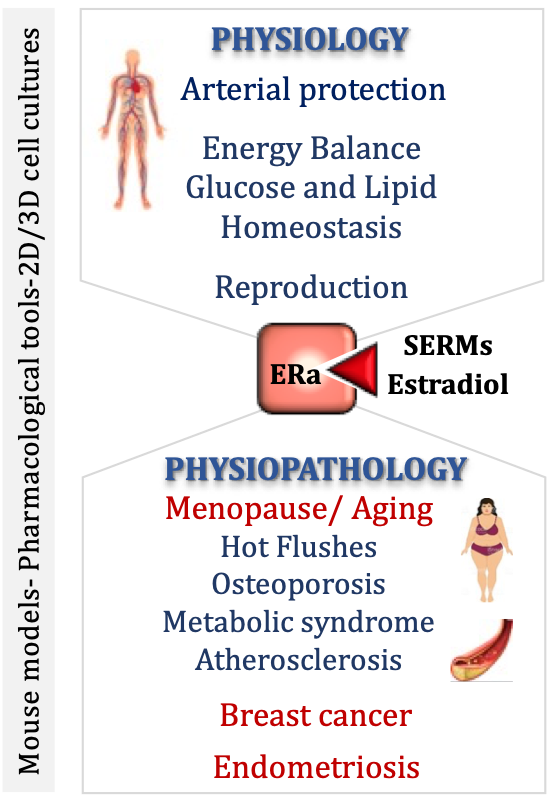 MODULATION OF THE OESTROGEN RECEPTOR ERα: VASCULAR, METABOLIC and ENDOCRINE DYSFUNCTIONS (ESTER)
Our work is focused on understanding the molecular and cellular mechanisms of actions of Estrogen Receptor ERα in its physiological vasculoprotective and metabolic preventive effects of estrogens and Selective Estrogen Receptors Modulators (SERMs).  Four main axes are developed, in collaboration with clinicians at the CHU of Toulouse: 1) prevent apparition of aging-vascular diseases, 2) contribute to the development of new estrogenic molecules to improve the safety of oral contraception and of menopausal hormone therapy, 3) understand dialogue between estrogenic and circadian signaling, 4) develop translational research on an estrogenic dependent pathology: endometriosis.
Les travaux de Jean-François Arnal et Françoise Lenfant sont sélectionnés pour le Prix Galien 2022
JF. Arnal and F. Lenfant have been included in the Official Selection of the Prix Galien 2022 in the "Research work" section.
Their work is honoured: the coronary artery risk of women is reduced by oestrogen hormones, but at the cost of certain risks. By better understanding their mechanisms of action, the work of Jean-François Arnal and Françoise Lenfant proposes a safer modulation of the estrogen receptor in medicine (contraception, menopause).
Tous / All
Team leader
Researchers
Clinicians
Technical staff
Students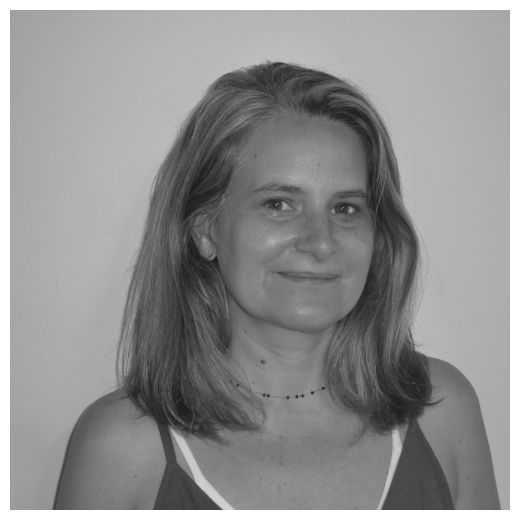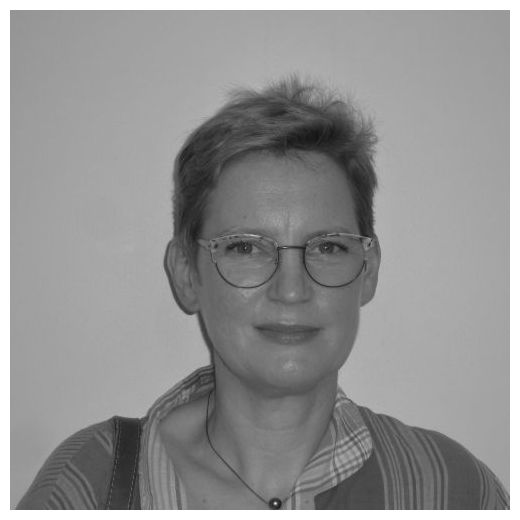 Team leader
Françoise LENFANT
PhD, Director of research, Group leader
Career path
Françoise LENFANT received her PhD in Microbiology from the Institut National des Sciences Appliqués à Toulouse, in 1991. From 1991 to 1994, she worked as a post-doctoral fellow in the field of Molecular Biology at the University of California, USA, then in Toulouse in the field of reproduction and was recruited as a principal investigator at INSERM, Toulouse, in 1997. Since 2005, Francoise LENFANT is a Director of research at the INSERM U1297, working on modulation of Estrogen Receptor in medicine.
Main domains of expertise

Sexual steroids, Estrogen Receptor, reproduction, endothelium, breast cancer, in vivo models.
Co-Team Leader - Researcher
Coralie FONTAINE
CRCN (research fellow, normal class) at INSERM
Develops research on the impact of estrogen receptor (ER)a modulation on the arterial wall with implications for vascular pathologies such as atherosclerosis.
Career path
D. in biochemistry and molecular biology at the University of Lille (2002-2006), Postdoc at the University of Nice (2007-2008), joined the I2MC in Toulouse in 2008 and was recruited as a research fellow at Inserm in 2010.
Field of expertise 
Nuclear receptor, estrogen, endothelium, in vivo approaches.
Reseachers
Jean-François ARNAL
Jean-Francois ARNAL, Professor of Physiology
Jean-François ARNAL is professor in Physiology at Toulouse 3 University of Medicine and at Toulouse University Hospital since 1997, after a doctorate in medicine (1990), and a doctorate in physiopathology (1993) followed with a post-doctoral internship at the 'Emory University at Atlanta (1994). He led the team until 2019 studying the structure-function relationships for optimization of Estrogen Receptor Alpha (ERα) modulation in medicine, summarized in the review: Membrane and Nuclear ERα Actions: From Tissue Specificity to Medical Implications. Arnal JF, Lenfant F, Metivier R, Flouriot G, Henrion D, Adlanmerini M, Fontaine C, Gourdy P, Chambon P, Katzenellenbogen B, Katzenellenbogen J. Physiol Rev . 2017 Jul 1; 97 (3): 1045-1087. PMID: 28539435. He is a foreign member of the Royal Academy of Medicine of Belgium (2020). He collaborates with Mithra Pharmaceuticals on Estetrol (E4) in oral contraception He obtained the Lamonica Prize for Cardiology of the Academy of Sciences in 2019. He is also a professor in physiology in PACES / PASS and in the 2nd year of medicine and is co-responsible for the Master resaerch  in physiopathology: from molecular to medical, and prepare future M.D. students in 2nd year of medicine at the INSERM School and at the " MD-PhD training program ". Videos M2 level: Role of estrogens in cardiovascular diseases – Jean-François ARNAL – Dec 2018 https://www.youtube.com/watch?v=C_Gq8xIWubM
Researcher
Marine ADLANMERINI
Post-Doc,  INSERM researcher since Decembre 2021
Career path
Marine ADLANMERINI received her PhD in Physiology at the university of Toulouse (FR) in 2015. From 2016 to 2020, she worked as a post-doctoral fellow in the laboratory of Mitch Lazar in Philadelphie (USA) and then joined I2MC at Toulouse in 2021. She was recruited at the position of CRCN (tenured researcher) at the Inserm in Decembre 2021.
Main domains of expertise
Nuclear receptor (ER and REV-ERB), estrogen, circadian rhythms, metabolism, in vivo approaches.
CLINICIAN
Elodie CHANTELAT
CLINICIAN
Emmanuelle NOIRRIT-ESCLASSANC
Lecturer – Hospital practitioner
Career path
Master of Biological and Medical Sciences at the University Paul Sabatier Toulouse III (1995-1998). State Diploma of Doctor of Dental Surgery (1999). Diploma of Advanced Studies in Social Anthropology and History of Europe (École des Hautes Études en Sciences Sociales) (2000). PhD (LU Interface Biomaterials Biological Tissues) (2009). Joined in 2015.
Areas of expertise
Her research focuses on the study of pathophysiological mechanisms involved in the thromboembolic and bone effects of estrogens in the context of hormonal treatment of menopause and ageing.
CLINICIAN
Florence TREMOLIERES
Endocrinologist, MD.PHD, PU-PH in Medical Gynecology
Career path
Doctorate in Medicine in 1989, speciality Endocrinology and Metabolic Diseases. Post-doctoral training (1989-1991) in the Department of Bone Mineral Metabolism (Pr. D.J. Baylink), University of Loma Linda (California – USA). University thesis in Developmental Biology at the University Paul Sabatier (Toulouse III) in 1995. Habilitation to direct research (HDR) in 2002. She joined Team 9 (Dr. Françoise Lenfant, Pr. Pierre Gourdy) of the I2MC in 2006 as a clinician. Head of department since 2011 of the Menopause Centre, the only university centre in France dedicated to menopausal women. Founding member (2009) and President of the Study Group on Menopause and Hormonal Aging (GEMVi) (2019). Member of the boards of the European Menopause and Andropause Society (EMAS) (2009-2015) and of the International Menopause Society (IMS) (2014-2018). Officer of the Palmes Académiques (2017).
Area of expertise 
Study of the tissue consequences of estrogen deficiency states, particularly in terms of bone, cardiovascular and oncology in the post-menopause. Specialist in post-menopausal osteoporosis and metabolic bone pathologies.
She is a regular speaker at national and international congresses on the subjects of menopause and osteoporosis and is the author of more than 170 articles published in international or national referenced journals and of more than 15 book chapters.
CLINICIAN
Marie VALERA
Lecturer – Hospital practitioner
Career path
2005 : PhD in Dental Surgery. Paul Sabatier University (UPS) Toulouse III. 2005-2006: Master 2 Research. Mention Cellular and Integrated Physiology-Physiopathology.UPS Toulouse III. 2006-2009: University Doctorate in Cellular, Molecular and Integrated Physiopathology. INSERM U1048, I2MC. 2016 : Recruitment as Senior Lecturer/Hospital Practitioner.
Her current research focuses on understanding the pathophysiological mechanisms involved in the effects of estrogens on blood platelets and thrombosis in mouse models.
Area of expertise 
Haematology, animal experimentation, microsurgery
Engineer
Mélissa BUSCATO
Engineer
Career path
Holder of a BTS BioAnalyses and Controls at the Saliège high school in Balma and an engineering degree in Sciences and Life of the Earth at the EPHE. She joined I2MC on a fixed-term contract in 2011.
She works as an engineer in the team on the study of vascular and metabolic effects of estrogens and SERMs.
Field of expertise 
Animal experimentation, cellular and molecular biology, histology.
Engineer
Silveric GILARDI
Engineer
Career path
Holder of a Master's degree in Biology-Health with a major in Physiopathology from the University Paul Sabatier, Toulouse, France after a university training in Toulouse.
He joined the team in September 2020 and works on the modulation of the oestrogen receptor in physiology and physiopathology, studying the effect of endocrine disruptors (ANSES funding).
Field of expertise 
Animal experimentation, cellular and molecular biology, histology, cytometry
Post-Doctoral Student
Chanaëlle FEBRISSY
Post-Doc student (ANR and Ligue contre le cancer funding)
Career path
Master's degree in Genes, Cells and Development obtained at Paul Sabatier University (UT3) in 2018. PhD student since November 2018.
Chanaëlle Fébrissy is a PhD student working on the identification of molecular and cellular mechanisms involving the estrogen receptor ERα during tumor angiogenesis.
Field of expertise 
Molecular and cellular biology, animal experimentation, imaging, cytometry.
PhD Student
Adrien GARGAROS
PhD Student at INSERM
Adrien Gargaros' project focuses on the study of estrogen receptors in endometriosis lesions and the implementation of a new model for studying the pathology.
Career path
Master of Biology and Health specializing in Physiopathology at the University of Toulouse (2020). Study engineer since 2021.
Areas of expertise
Cell and molecular biology, Cell culture, Imaging, Animal experimentation, Estrogen receptor
PhD Student
Mariam RUSIDZE
Clinical Assistante 
Career path
Mariam Rusidze is an anatomo-pathologist who graduated from Tbilisi State Medical University in Georgia. She joined our team in 2018 as a Master2 Research student in Physiopathology from Paul Sabatier University. Currently a PhD student since October 2018, she is working on the physiology and pathophysiology of the estrogen receptor ERα in the reproductive system, fertility, as well as in endometriosis.
She received her M.D. in pathological anatomy- clinical pathology" – from Tbilisi State Medical University, Tbilisi (Georgia) and her Master degree in Physiopathology-from molecular to medical as an Erasmus student from Toulouse University III- Paul Sabatier, Toulouse in 2018. She recently obtained her Inter University Diploma (DIU) in Molecular Pathology at the University of Toulouse III-Paul Sabatier, Toulouse (2021).
Area of expertise
Human and murine histopathology diagnosis, animal experimentation, mouse ultrasound, imaging, molecular biology (RT-qPCR, RNAscope)
IMPACT OF AGING ON ARTERIAL PROTECTION BY ESTROGENS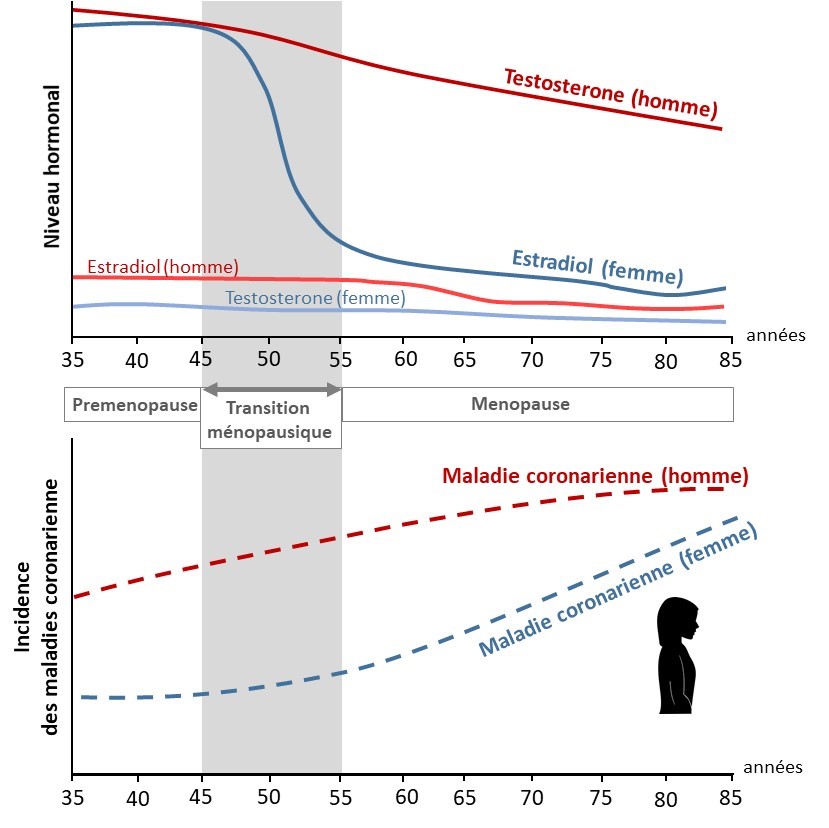 Coordinators : Coralie Fontaine, Jean-François Arnal
Women are protected against cardiovascular risk compared to men until menopause. This protection conferred by endogenous estrogens during the period of genital activity can be extended with estrogen supplementation when hormonal treatment is administered early after the onset of menopause. Our goal is to understand the loss of arterial protection by estrogens during aging by studying the impact of age on the signaling of Estrogen receptor ERα signaling in arterial wall. This project is conducted in partnership with the company Physiotim (Castres, France).
OPTIMIZATION OF ESTROGEN RECEPTOR MODULATION
Coordinators : Coralie Fontaine, Marine Adlanmerini, Marie-Cécile Valéra, Florence Tremolières, Jean-François Arnal et Françoise Lenfant
Using a combination of pharmacological approaches and the use of mouse models targeting the different sub-functions of ERα (nuclear versus membrane-initiated signaling), our objectives are to optimize the activation of ERα to develop new therapeutic strategies to optimize hormonal therapies used in various pathologies in women (treatment of menopausal symptoms, breast cancer, endometriosis?).  We are contributing to these developments through partnerships with a Belgian Biotech (Mithra) which is developing estetrol, a fetal estrogen and big pharmas (Pfizer).
DIALOGUE BETWEEN ESTROGENIC AND CIRCADIAN SIGNALING
Coordinators : Marine Adlanmerini, Coralie Fontaine
Estrogen receptor alpha (ERa), the major mammalian estrogen receptor, is expressed with a large circadian rhythm. Furthermore, estrogen signaling is known to regulate several circadian functions in women, but also in men. By exploring the hypothesis that ERα may act as a time donor capable of driving circadian metabolism, our team aims to determine the molecular mechanisms and physio(patho)logical implications of the dialogue between estrogen and circadian signaling.
THE MECHANISM OF ACTION OF OESTROGENS IN ENDOMETRIOSIS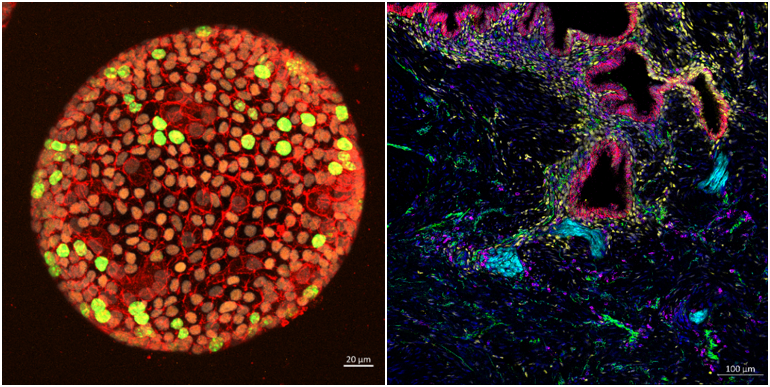 Coordinators : Elodie Chantalat, Françoise Lenfant
Endometriosis, present in 10% of reproductive-aged women, is an estrogen-dependent, chronic inflammatory gynecologic disease that is characterized by the presence of endometrial tissue outside the uterus and induced pelvic pain, infertility and impaired quality of life. Our project proposes a multidisciplinary approach to better understand ERα mechanisms of actions in endometriosis, using tissue biopsies and developing a platform of organoids derived from these tissues. The ultimate goal is to propose new therapeutics to control the endometriotic process without inducing systemic estrogen deprivation and its long-term deleterious consequences. Financial support from EndoFrance association and the Occitanie-Pyrénées Region (GRAINE- EndoTREAT in partnership with CHU and Urosphere).
Tamoxifen Accelerates Endothelial Healing by Targeting ERα in Smooth Muscle Cells, Zahreddine R, Davezac M, Smirnova N, Buscato M, Lhuillier E, Lupieri A, Solinhac R, Vinel A, Vessieres E, Henrion D, Renault MA, Gadeau AP, Flouriot G, Lenfant F, Laffargue M, Métivier R, Arnal JF, Fontaine C.,Circ Res, 2020. Pubmed
Mutation of Arginine 264 on ERα (Estrogen Receptor Alpha) Selectively Abrogates the Rapid Signaling of Estradiol in the Endothelium Without Altering Fertility, Adlanmerini M, Fébrissy C, Zahreddine R, Vessières E, Buscato M, Solinhac R, Favre J, Anquetil T, Guihot AL, Boudou F, Raymond-Letron I, Chambon P, Gourdy P, Ohlsson C, Laurell H, Fontaine C, Metivier R, Le Romancer M, Henrion D, Arnal JF, Lenfant F, Arterioscler Thromb Vasc Biol, 2020.Pubmed
Sex differences in metabolic regulation and diabetes susceptibility, Tramunt B, Smati S, Grandgeorge N, Lenfant F, Arnal JF, Montagner A, Gourdy P, Diabetologia, 2020. Pubmed
Membrane expression of the estrogen receptor ERα is required for intercellular communications in the mammary epithelium, Gagniac L, Rusidzé M, Boudou F, Cagnet S, Adlanmerini M, Jeannot P, Gaide N, Giton F, Besson A, Weyl A, Gourdy P, Raymond-Letron I, Arnal JF, Brisken C, Lenfant F, Development, 2020. Pubmed
Membrane and Nuclear Estrogen Receptor Alpha Actions: From Tissue Specificity to Medical Implications, Arnal JF, Lenfant F, Metivier R, Flouriot G, Henrion D, Adlanmerini M, Fontaine C, Gourdy P, Chambon P, Katzenellenbogen B, Katzenellenbogen J, Physiol Rev, 2017. Pubmed


Inserm/UPS UMR 1297 - I2MC Institut des Maladies Métaboliques et Cardiovasculaires
1 avenue Jean Poulhès - BP 84225 - 31432 Toulouse Cedex 4
Tél. : 05 61 32 56 00
Horaires
Du lundi au vendredi
8h30 - 12h30 / 13h45 -16h45