THOSE WISHING TO USE THE TRAY MUST :
Make an appointment with the staff to discuss your project.
Take note of the internal rules and the service request form, which must be read and signed by each user and returned to those in charge of the venue.
EXPERTISE
The staff of the platform is there to :
Help you to set up or optimise your experimental protocols.
Advise you in the optimisation of your multi-colour panels.
Assist in the analysis and interpretation of results.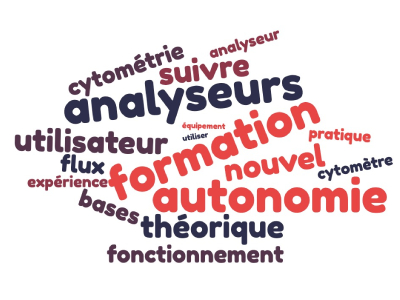 TRAINING
As part of the introduction to autonomy on the analysers, each new user will have to follow :
Theoretical training on the basics of flow cytometry and the operation of a cytometer.
Practical training on the analyser during your first experience in order to use the equipment correctly.
We also offer INSERM and CNRS Entreprises training courses.


Inserm/UPS UMR 1297 - I2MC Institut des Maladies Métaboliques et Cardiovasculaires
1 avenue Jean Poulhès - BP 84225 - 31432 Toulouse Cedex 4
Tél. : 05 61 32 56 00
Horaires
Du lundi au vendredi
8h30 - 12h30 / 13h45 -16h45